Huntington's disease chorea impact and prevalence
Approximately 90% of patients with Huntington's disease (HD) experience chorea1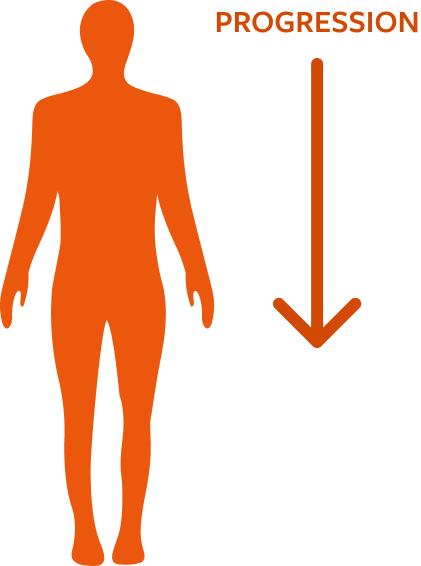 Approximately 90% of patients with Huntington's disease (HD) experience chorea1
Chorea typically1:
Initially presents as occasional small-amplitude movements of fingers, hands, and face muscles
Progresses to larger, more frequent movements that involve all extremities and the trunk
Chorea is cited as one of the most impactful symptoms on everyday life by both HD patients and caregivers2
Chorea may impact:
Speech/
swallowing3,4
Social/
functioning5
Daily
activities6
Walking/
gait3,7
Employment7
30%
of caregivers and
18%
of patients
rank chorea as
THE MOST IMPACTFUL
SYMPTOM OF HD2,a
| | |
| --- | --- |
| a | Results of 2 separate surveys conducted by HDSA of patients with HD and caregivers of patients with HD to capture perspectives on HD symptoms and current treatments. Surveys were distributed in August and September 2014, and responses were collected through January 2015. |
Patients with Huntington's disease (HD) chorea reported requiring assistance more frequently for daily activities6
Self-care activities requiring assistance when considering chorea as an independent factor6,b,c
Emotional support
Finances
Leaving the house
Meal preparation
Daily activity
motivation
Planning daily
activities
Taking medication
when required
Using household
appliances
Patients with chorea are
2xMORE
LIKELY
to require caregiver
assistance with daily
needs than those
without chorea6
| | |
| --- | --- |
| b | Data were drawn from the Adelphi HD Specific Programme (DSPTM) conducted between July and October 2017. The DSPTM was a large, point-in-time survey of physicians and their patients in a real-world clinical setting and included 144 neurologists and 427 of their patients with HD in the United States. Physicians were instructed to complete a record form for their patients with HD, either retrospectively from their recent records or prospectively from their next consult.6 |
| c | Activities that were not significantly different between patients with chorea and patients without chorea included communication with others, getting in and out of bed, going to the toilet, and gardening.6 |
SEE PATIENT CASES
FROM KINECT-HD
View videos of clinical trial patients with HD chorea treated with INGREZZA® (valbenazine) capsules
REVIEW CASES
SIMPLE FROM THE START
The only VMAT2 inhibitor that offers an effective starting dosage you can adjust based on response and tolerability8
EXPLORE DOSING
REFERENCES:
Nance MA,

Paulsen JS, Rosenblatt A, Wheelock V. A Physician's Guide to the Management of Huntington's Disease. 3rd ed. Huntington's Disease Society of America; 2011.
Simpson JA, Lovecky D, Kogan J, Vetter LA, Yohrling GJ. Survey of the Huntington's disease patient and caregiver community reveals most impactful symptoms and treatment needs. J Huntingtons Dis.

2016;5(4):395-403.

Suchowersky O.

Huntington disease: clinical features and diagnosis. Accessed March 7, 2023. https://www.uptodate.com/contents/huntington-disease-clinical-features-and-diagnosis.

Roos RAC.

Huntington's disease: a clinical review. Orphanet J Rare Dis. 2010;5:40.
Sherman CW, Iyer R, Abler V, Antonelli A, Carlozzi NE. Perceptions of the impact of chorea on health-related quality of life in Huntington disease (HD): A qualitative analysis of individuals across the HD spectrum, family members, and clinicians. Neuropsychol Rehabil. 2020;30(6):1150-1168.
Claassen DO, DeCourcy J, Mellor J, Johnston C, Iyer RG. Impact of chorea on self-care activity, employment, and health-care resource use in patients with Huntington's disease. J Health Econ Outcomes Res. 2021;8(1):99-105.
Grimbergen YAM, Knol MJ, Bloem BR, Kremer BPH, Roos RAC, Munneke M. Falls and gait disturbances in Huntington's disease. Mov Disord. 2008;23(7):970-976.

INGREZZA [package insert].

San Diego, CA: Neurocrine Biosciences, Inc.